Please Stop Posting About Facebook Going Public, It's a Hoax (PROOF)
Rumor has it that Facebook is going public and another rumor is that you'll have to pay in order to subscribe to Facebook. Let us assure you both rumors are just far from any truth. No, Facebook won't be posting your 'secret messages' to public and you won't be asked to pay in order to use Facebook.
We've been seeing many friends posting on their wall and updating their status warning people against Facebook with messages like the below:
The Message:
"Now it's official! It has been published in the media. Facebook has just released the entry price: £5.99 to keep the subscription of your status to be set to "private". If you paste this message on your page, it will be offered free (I said paste not share) if not tomorrow, all your posts can become public. Even the messages that have been deleted or the photos not allowed. After all, it does not cost anything for a simple copy and paste."
"All your posts can become public tomorrow . Even the messages that have been deleted or the photos not allowed. After all, it does not cost anything for a simple copy and paste Better safe than sorry is right. Channel 13 News was just talking about this change in Facebook's privacy policy. Better safe than sorry. I do not give Facebook or any entities associated with Facebook permission to use my pictures, information, messages or posts, both past and future. By this statement, I give notice to Facebook it is strictly forbidden to disclose, copy, distribute, or take any other action against me based on this profile and/or its contents. The content of this profile is private and confidential information. The violation of privacy can be punished by law (UCC 1-308- 1 1 308-103 and the Rome Statute). NOTE: Facebook is now a public entity. All members must post a note like this. If you prefer, you can copy and paste this version. If you do not publish a statement at least once it will be tactically allowing the use of your photos, as well as the information contained in the profile status updates. DO NOT SHARE. You must copy n paste."
Apparently this Facebook hoax has been going around for years and people keep sharing this post.  If you are still looking for proof here's the original statement Facebook released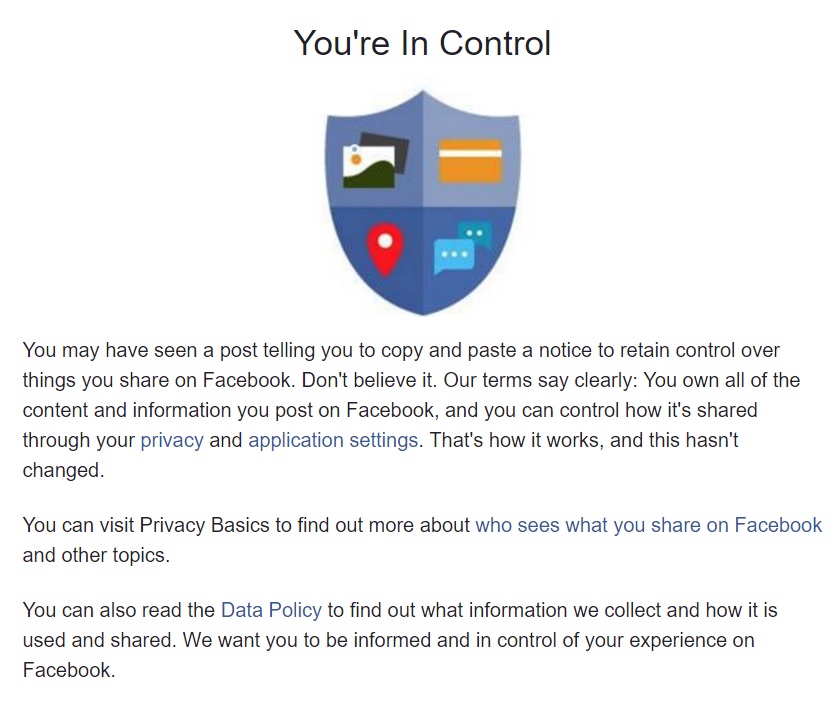 https://www.facebook.com/fbfacts/1573108242983244
So, yes please stop copying and pasting this message! (Or delete it if you feel like it) While this is just a hoax it is good to always remember that you should try to stay safe online. Check your facebook privacy setting and while we are talking about privacy, never post something you might regret!

The Hub Team will keep you posted with ALL the latest updates in the world!

Latest posts by The Hub Team (see all)
Share and Enjoy